Andon Boards
Make smarter, faster real-time decisions to improve your bottomline
Andon Boards are a visual management tool, often used in lean manufacturing, that displays the real-time status of your manufacturing processes, including information about equipment, production lines, and workers' performance. They detect production issues in real-time and help operations teams take immediate action to resolve them, resulting in increased output and reduced costs.
Benefits of Andon Boards in Manufacturing include:

Quicker response time to critical issues such as:

Machine downtime
Part shortages & material-handling issues
Operator help requests
Improved accountability & transparency fostering a culture of collaboration:

Real-time feedback on performance versus target (sometimes referred to as schedule attainment)
Allowing workers to gauge their performance against their colleagues. This healthy competition can encourage workers to strive for excellence.
Implementing Andon Boards in Manufacturing
Implementing Andon boards in your manufacturing facility can significantly impact on your bottom line. NeoMatrix works closely with our clients to understand their processes and goals, all while implementing boards that offer:
Fast ROI: Deliver a fast return on investment — typically within weeks or months rather than years.
Ease of use: Andon boards are designed to be easy to use and require minimal training. This means that your operators can start using the system right away, without the need for extensive training or technical expertise.
Scalability: Andon boards are a scalable solution that can grow with your business. Whether you have a small manufacturing plant or a large complex operation.
Configurability: NeoMatrix creates a highly configurable solution that is tailored to your specific needs. You can choose the metrics you want to track, set thresholds for alerts, and customize the visual display to suit your preferences.
No impact on production: One of the biggest advantages of using Andon boards is that we can implement them without any downtime or disruption to your factory operations. This means that you can start using the system immediately and see results right away.
Andon Display Board Examples
Some common metrics on an Andon Board include:
Real-Time machine status
Overall Equipment Effectiveness (OEE) losses:

Availability — What are the top downtime causes?
Performance — Targeted Production vs Actual
Quality — First Pass Yield

Line Constraints — What cells are causing the most issues?
Cycle Time
Schedule Attainment
Andon Pull Cord/Operator Help Calls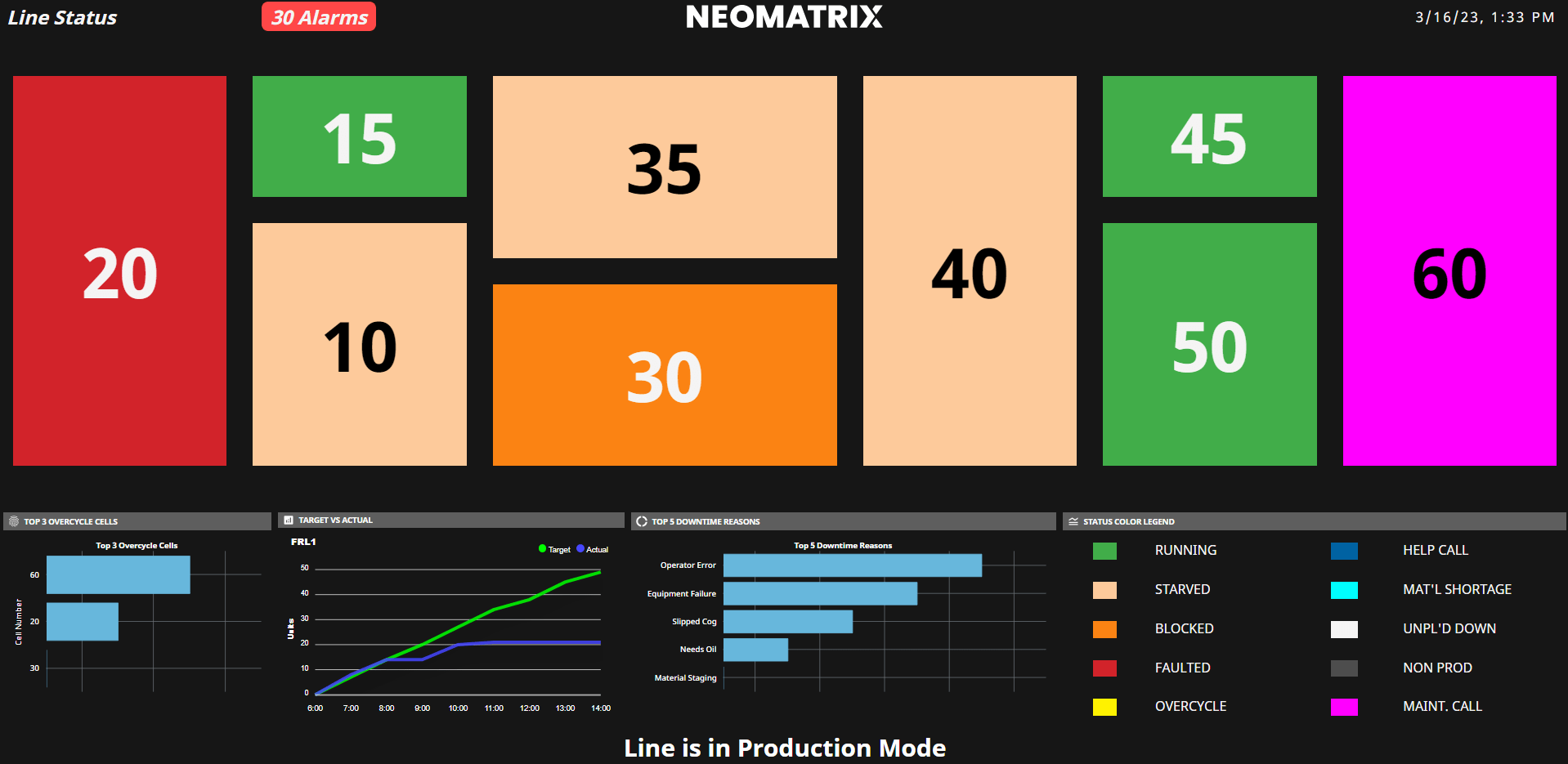 Extending Andon Board Features
An Andon board can incorporate other features such as:
Visualize remotely from a web page or mobile device.
Email/SMS alerts to immediately notify critical personnel of issues.
Integrate with other business applications such as CMMS to automatically generate maintenance work orders.
Ready to Make Data-driven Decisions to Improve Quality and Efficiency?
NeoMatrix has years of experience implementing Manufacturing Enterprise Systems (MES) and Andon Boards in a wide range of manufacturing environments and offers customizable Andon board solutions to meet the specific needs of your facility. We program boards to come with a variety of features, including real-time alerts, customizable displays, and remote monitoring capabilities — ensuring you're always up to date on what's happening in your organization.
Contact us today to learn more about our Andon Board capabilities and how we can help you achieve your production goals.